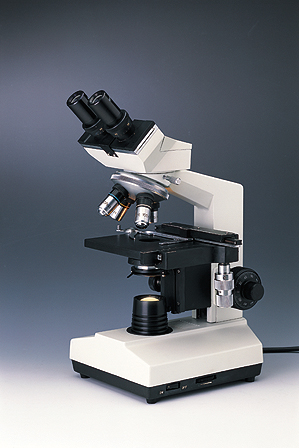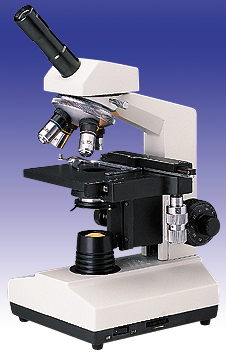 BM-206G


Standard features :-
Eyepieces
Widefield WF10x (18mm) and plan P- 16x eyepieces are standard.
Also available as options are widefield WF15x,12.5x eyepieces,
huygenian H15x, 12.5x eyepieces and huygenian H5x eyepieces,
providing choices of various magnifications.
Objectives
The standard is achromatic objectives (4x,10x,40xR and 100xR oil),
4x(0.1N.A.), 10x(0.25N.A.), 40x(0.65N.A.SPRING), 100X oil(1.25N.A.SPRING)
Stage
Large smooth operating mechanical stage with vernier scales in the
X-Y direction and a travel range of 30 x 60mm. Graduations up to 0.1mm.
Focusing
Coaxial fine and coarse adjustment is a standard feature on all models,
ensuring precise focusing throughout the entire magnification range.
Condenser
The BM-2G series is equipped with 1.25 N.A. abbe condenser operated on
rack and pinion mechanism that consistently provides a bright and even
illumination.
Illuminator
All BM-2G models feature a 6V/20W halogen light system with intensity
control providing a continuous adjustment of brightness.

BM-206G Monocular Head
Monocular head Model is the most economical version yet enjoying the same
superior optical quality and ease of use. With the ocular tube at 30°inclined
and 360°rotatable, it provides maximum ease of operation. User can always
upgrade to model BM-209G,BM-213G by purchasing the appropriate head as accessory .

BM-209G Binocular Head
The most popular binocular head model, with ocular tubes inclined at a comfortable
30°angle and is 360°fully rotatable for maximum ease of use. A diopter ring
is set on the left tube to facilitate compensation for eye acuity, graduated interpupillary
distance adjustment from 53-72mm .

BM-213G Trinocular Head
Similar to BM-209G, it comes with a phototube to be used with camera, video or CCTV operation .
MODELNO.

OCULAR HEAD

EYEPIECES

DIN (45mm)OBJECTIVES

CONDENSER

ILLUMINATOR

BM-206G
BM-209G
BM-213G

Monocular
Binocular
Trinocular

WF10x
18mm
P-16x

Achromatic
4x, 10x, 40xR
100xR oil

ABBE, DIN
N.A. 1.25

6V/20W
Halogen
Packing Size:
H52 x W35 x L39cm
Gross Weight:
14 KGS ( 1pc pack, wooden case )
Electrical:
All electrical parts are arranged according to CE, VDE, UL andCSArequirements.
Design Change:
The manufacturer reserves the right to make changes in instrument design in accordance with scientific and mechanical progress, without notice and without obligation.
In today cost conscious environment, provides the best performance for the value of your money .