ST-30 series
ST-30-2L
ST-30-L
ST-30-P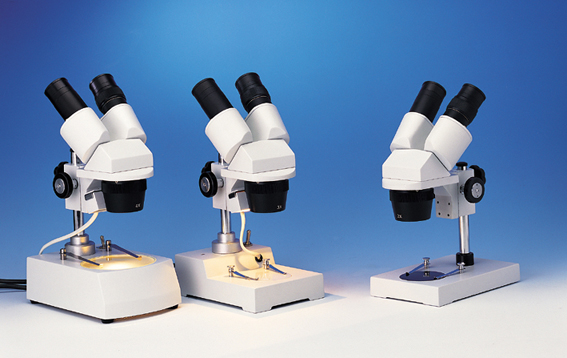 ST series standard features
- ST series 45°inclined binocular stereo body, and ST-40 series can be 360°otatable .
- ST-30 series 180° ST-40 series 90°rotatable movement allows rapid magnification change .
- Crisp erect image over a widefield of view .
- Good depth of view and high resolution power lens .
- Excellent alignment ensures the user a fatigue- free long hour viewing .
- Dioptric adjustment for ±5mm is possible with the left ocular tube . Rubber eyecups are
provided as standard .
- Smooth and accurate focusing, by rack and pinion with built-in slip clutch system and with safety
stop at the lower end of traverse . Adjustable tension control is a standard for all models .
- For illumination model, built-in transmitted light source, lockable black and white reversible
contrast plate,
replaceable frosted glass plate 95mm diameter, and locked in pair stage clips .
- For dark field model, with replaceable darkfield condenser and jewellery clamp set .
Standard set in each ST-30 series model comes in with:-
- 45°inclined binocular stereo body .
- WF 10x eyepiece, pair
- Turret objective of three choices, 1x 2x, 1x 3x or 2x 4x
- Eyecup, pair
- Dust cover
- Black and white cover stage
- Extra frosted stage for various types in Model ST-30-2L, ST-30-DL with incident
and transmitted light stand
Standard set in each ST-40 series model comes in with:-
- 45°inclined binocular tube and 360° rotatable head lockable in any position for ease of use .
- Turret mount with two pairs objective 90° rotatable movement allows a rapid magnification change .
- WF 10x eyepiece, pair
- Turret objective of three choices, 1x 2x, 1x 3x or 2x 4x
- Eyecup, pair
- Dust cover
- Black and white cover stage
- Extra frosted stage for various types in Model ST-40-2L,
ST-40-DL with incident and transmitted light stand
Optical data for ST series:-


Objective
Magnification


EYEPIECE

Working
Distance

10x

10x

15x

15x

20x

20x

Total
Magnification

Field
of View

Total
Magnification

Field
of View

Total
Magnification

Field
of View

1x

10x

20.0mm

15x

15.0mm

20x

10.0mm

57mm
ST-30SERIES

75mm
ST-40SERIES

2x

20x

10.0mm

30x

7.5mm

40x

4.3mm

1x

10x

20.0mm

15x

15.0mm

20x

10.0mm

3x

30x

6.7mm

45x

5.0mm

60x

4.3mm

2x

20x

10.0mm

30x

7.5mm

40x

6.5mm

4x

40x

5.0mm

60x

3.7mm

80x

3.2mm