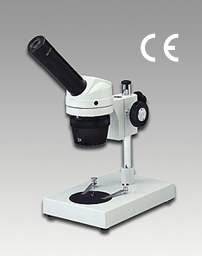 JP-20 SERIES DISSECTING MICROSCOPE
THE NEWLY INTRODUCED MONOSCOPE PROVIDES A SIMPLE-TO-USE DEVICE FOR
VIEWING LARGE OBJECTS, WITH CLEAR, SHARP AND CORRECT IMAGE.
THE BEST INTRODUCTORY MICROSCOPE FOR THE YOUNG BEGINNER.
THE PRECISION JP SERIES IS THE LATEST DEVELOPED SIMPLE MONOSCOPE FOR
VIEWING OF LARGE OBJECTS AND IS IDEAL FOR DISSECTING AND GEOLOGY STUDIES.
IT IS A MONOSCOPE BUT CAN WORK AS A STEREO MICROSCOPE AND PROVIDE A
CLEAR AND EXCELLENT IMAGE OF REAL OBJECTS.

STANDARD FEATURES :
1. HIGH QUALITY GLASS OPTICS FOR BEST VIEWING EFFECT.
2. LOCKED-IN WIDEFIELD WFIOX EYEPIECES WITH 2X OBJECTIVE PROVIDES MAXIMUM
FIELD OF VIEW AND A CORRECT IMAGE FOR VIEWING LARGE SPECIMENS.
3. RACK AND PINION FOCUSING FOR SMOOTH AND PRECISE ADJUSTMENTS DURING
OBSERVATION.
4. THE BODY IS MOUNTED ON A HEIGHT ADJUSTABLE POLE FOR EASY ADJUSTMENT
OF THE VIEWING DISTANCE TO ACCOMMODATE SPECIMENS OF VARYING THICKNESSES.
5. BUILT-IN STOP PREVENTS DAMAGE TO OBJECTIVES AND SPECIMENS.
6. 360° ROTATABLE HEAD PROVIDES MAXIMUM VIEWING COMFORT.

| | | | |
| --- | --- | --- | --- |
| MODEL | EYEPIECE | OBJECTIVE | TOTAL MAGNIFICATION |
| JP-20 | WF10X | 2X | 20X |
| JP-30 | WF10X | 2X | 30X |




STANDARD SPECIFICATIONS

ERECTOR
OBJECTIVE
MAGNIFICATION
FIELD OF VIEW
WORKING DISTANCE
ADJUSTABLE RANGE
OF FOCUSING
MAXIMUM HEIGHT OF OBJECT
BASE SIZE
PLASTIC STAGE
HEIGHT
WEIGHT

: ROOF PRISM
: 2X
: 20X
: Ø8.5MM
: 74.3MM
: 79.6MM
: (-27.7MM TO +51.9MM)
: 51.9MM
: 115MM X 170MM
: Ø60MM WHITE AND BLACK
: 230MM (W/EYEPIECES)
: 1.4 KG.
PACKING SIZE

H70 X W49 X L29CM.

GROSS WEIGHT

14 KGS (6 PC PACK)

DESIGN CHANGE

THE MANUFACTURER RESERVES THE RIGHT TO
MAKE CHANGES IN INSTRUMENT DESIGN IN
ACCORDANCE WITH SCIENTIFIC AND
MECHANICAL PROGRESS.

MANUFACTURER


WITHOUT NOTICE AND WITHOUT OBLIGATION.