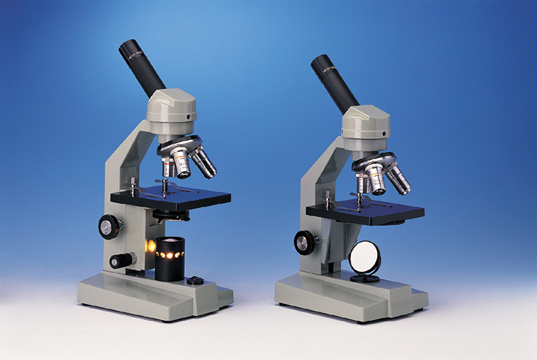 M-100 series educational microscope is a range of advanced student use
microscope, with full built-in and optional features and excellent optical
quality at a very affordable price .
Precision Microscope M-series features:-
1. Sturdy, well balanced, aluminum die casted and rubber footed stand .
2. 45° inclined head with 360° rotatable head .
3. Highest quality prism (not mirrors) in optical path . Only the finest optical glass is
used to ensure the best optical result is achieved, locked in wide angle WF10x eyepiece
with built-in pointer is a standard feature .
4. All objectives, are of DIN standard, achromatic with high numerical aperture for
maximum resolution and always parfocal .

| | |
| --- | --- |
| Achromatic DIN 4x objective | N.A.0.10 |
| Achromatic DIN 10x objective | N.A.0.25 |
| Achromatic DIN 40x objective(spring) | N.A.0.65 |
| Achromatic DIN 100x objective(spring, oil) | N.A.1.25 |

5. Standard precision triple nosepiece, parcentred with positive click stop centration,
Quadruple nosepiece on ball bearing system can be ordered as option .
6. Easy and accurate focus by rack and pinion with lever type fine focus (except the
M-2F(A) and M-2FL(AL) series that come only with coarse focusing). Slip clutch mechanism
is built-in on the coarse focusing knob to prevent gear damage due to over-powered turning .
It also has a tension adjustable mechanism to fulfil each individual user own tension
requirement for maximum operating ease and pleasure .
7. Built-in 0.65 N.A.condenser on stage is a standard . A substage focusable spiral type 1.25 N.A.
abbe condenser with iris diaphragm and blue filter can come in as option for use with DIN
100x oil immersion objective .
8. Large aluminum die casted stage 115x120mm, constantly horizontal . Safety rack stop
prevents damage to slides and objectives.
9. Special design spring loaded locked on stage clips provide sturdy and easy operation during
change of the specimen slides. A movable specimen holder can be ordered as option .
10. Standard calibrated 5-holes disc diaphragm at 20mm, 8mm, 5mm, 4mm and 3mm or optional
iris diaphragm with filter holder .
11. Illumination system: A choice between 42mm mirror and fork or built-in illumination system at
110V/20W( UL approved ) or 220V/20W ( VDE approved ) with approved three wire ground electrical
system . The built-in illuminator comes with a standard blue filter and built in condenser lens
ensuring optimal light effect for comfortable and clear viewing .
Standard set in M-series comes in with:-
-45°inclined head with fully rotatable through 360°. Model M-200 with teaching dual head .
-Fully achromatic optical system with low reflection coated . -Locked-on widefield 10x eyepiece
with pointer .
-45mm DIN parfocal objectives are color coded 4x, 10x, 40x, spring retractable .
-Triple nosepiece with positive click stops .
-Safety rack stop prevents damage to slide and objective . -Built-in sliding clutch in the focuing
knob on both sides of stand ensures the risk in damaging precision gear, rack objectives and specimen .
-Fine focusing with 0.0002mm value of knob on both sides of stand for model M-100 and M-200 .
-Large 115mm x 120mm stage, acid and reagent resistant with lock-on stage clips and build-in
0.65 condenser lens.
-Calibrated 5-holes disc diaphragm.
-Light type 2FL(AL), 100FL(AL) and M-200FL(AL) built-in illuminator base with heavy duty
3wire cord and on/off switch.
-Grey, chemical resistant, back-on finish .
-With dust cover and in protected styrofoam case .
"F" & "A" type: Prism Head and Base are different configuration design .
"FL" & "AL" type: Prism Head, Base and the power switch are different
configuration design.

Packing Size: H32 x W48 x L94cm (5 pcs pack )
Gross Weight: M-2 SERIES 19kgs, M-100, M-200 series 21kgs (5 pcs. pack)
Electrical: All electrical parts are arranged according to CE, VDE, UL and CSA requirements.