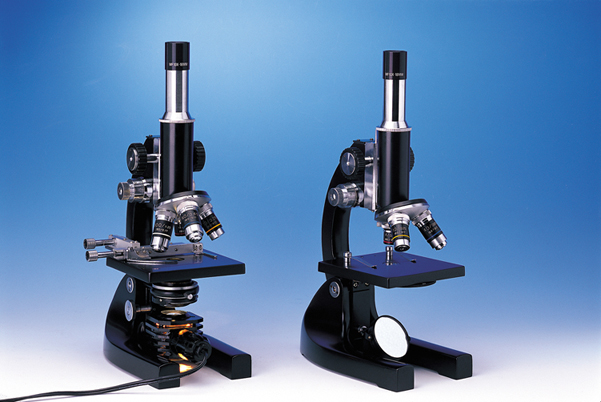 PRECISION P-5 SERIES EDUCATION MICROSCOPE
Standard Features
Magnification:
40x, 100x, 400x, 1000x
Eyepiece:
10x lock-in widefield eyepiece with built-in pointer
Objectives:
4x, (0.10 N.A.), 10x (0.25 N.A.),
40x (0.65 N.A., spring) and 100x oil (1.25 N.A., spring) objctives with parfocal
and parcentered features.
Nosepiece:
Triple or quadruple revolving nosepiece with click stop.
Body:
160mm fixed vertical monocular tube. Inclinable to 45°
Stage:
125x 115mm rectangular stage with two spring-activated, locked-in stage clips and
pre-drilled for fixing the movable specimen holder.
Focus Controls:
Rack and pinion coarse focus adjustment with tension control and built-in slip clutch
knob on both sides. Safety rack stop prevents damage to slides and objectives.
Illumination:
50mm plano-concave mirror with fork.
Standard set in P-5 model comes in with:-
Model P-5C
1. Stand
2. W10x eyepiece
3. Ojbectives: 4x, 10x, 40x (spring)
4. Built-in 0.65 condenser on stage
5. Rotary diaphragm
6. Mirror and fork
7. Dust cover
Model P-5D
1. Stand
2. W10x eyepiece
3. Objectives: 4x, 10x, 40x (spring)
4. 1.25 condenser (movable with rack and pinion); iris diaphragm, filter holder
5. Quadruple revolving nosepiece instead of triple nosepiece
6. Mirror and folk
7. Dust cover
Optional extras
1) 100x oil (1.25 N.A., spring), and 60x (0.85 N.A., spring) objective
2) Movable specimen holder
3) Attachable Illuminator 20W/110V or 20W/220V


Packing size : H32 x W44 x L85cm
Gross weight : 18kgs (5 pcs. pack)
P-5D
P-5C